AXOR Starck

Shower set 0.90 m with baton hand shower 1jet
Product Features
consists of: baton hand shower, shower bar, shower hose, slider
shower head size: 70 mm
spray type: Rain
pivot connector prevent hose from tangling
nuts shower hose: shower hose with cylindrical nut on both ends
maximum flow rate at 3 bar: 8 l/min
wall supports of plastic
Consists Of
Art. No. 27983000
Price Category $ $ $
Finish/Surface

Specify now!
Add this product specification to your project folder.
Downloads
Axor Starck hand shower set for bath solution - ShowerSelect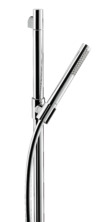 1 x AXOR Starck - Shower set 0.90 m with baton hand shower 1jet
Finish: Chrome, Art. No.: 27983000
consists of: baton hand shower, shower bar, shower hose, slider , shower head size: 70 mm , spray type: Rain , pivot connector prevent hose from tangling, nuts shower hose: shower hose with cylindrical nut on both ends , maximum flow rate at 3 bar: 8 l/min , wall supports of plastic
Price Category $ $ $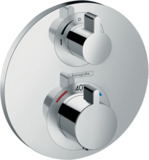 including additional/required parts
Add this recommended selection of specified products to your project folder.
This product has already been used in the following reference projects